Nearly 150 Annuitant Visitors, including 30 new recruits, along with their spouses and partners, six regional deans, and Pension Boards' staff, gathered September 7-10 in St. Louis, Missouri, at the annual Annuitant Visitor Seminar.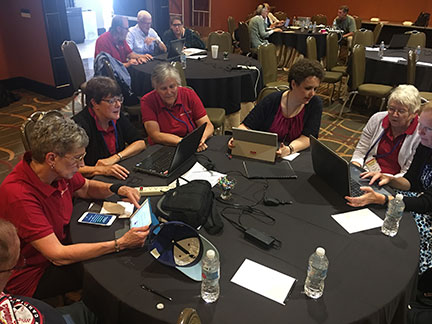 The orientation and training for new Annuitant Visitors began with a welcome and prayer by the Rev. Priscilla Shoup Bizer from St. Louis. She read Psalm 118, highlighting the verse which reads, "This is the day the Lord has made, let us rejoice and be glad in it." Rev. Bizer encouraged the new recruits to embrace the new possibilities available through their upcoming Annuitant Visitor experiences.

"Some [days] are difficult and disheartening, as well as uplifting and engaging; but in this day [that the Lord has made], we are being trained into another commitment of caring for the body of Christ and touching the lives of others in friendship," she said. "I fully expect that the Holy Spirit, the 'go-between' God, will enrich each of us in this new venture of Annuitant Visitors for the Pension Boards."

The Annuitant Visitor Program is a ministry of visitation administered through the United Church Board for Ministerial Assistance (UCBMA), the charitable arm of the Pension Boards-United Church of Christ. The program has been in existence since 1982 and has visitors in all 38 Conferences of the United Church of Christ. This ministry reaches about 6,000 annuitants across the country and is made possible through prior legacy gifts to the Ministerial Assistance Fund.

Training is essential

For new recruits, the Seminar proved essential in fulfilling their role as Annuitant Visitors. The training highlighted the best ways to communicate and approach United Church of Christ annuitants prior to a personal visit; offered computer training to help them access necessary resources; provided "how-tos" on filing visitor reports; cited the differences between the role of Annuitant Visitors and Pastors; and much more. For existing Annuitant Visitors, the annual Seminar is a great way to connect with other colleagues, share experiences, hear about best practices, and learn benefit updates from the Pension Boards.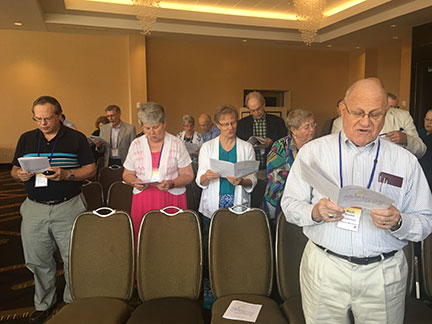 Ambassadors for the Pension Boards

Annuitant Visitors serve as ambassadors for the Pension Boards' pension, health, and ministerial assistance programs and benefits. As part of the training, several Pension Boards' staff attend each year to give presentations on their respective work areas and to help familiarize Visitors with the mission and ministry of the Pension Boards.

Pension Boards presenters included the Rev. Richard Walters, Director of Corporate Social Responsibility; the Rev. Dr. Jonathan Lee, Philanthropy Officer; the Rev. Krista Betz, Director of Ministerial Assistance; Dave Klassen, Chief Investment Officer; and Frank Loiacano, Director of Health Plan Operations.

"We are thankful for the care and compassion that already resides in the hearts of all our Annuitant Visitors," said Rev. Betz. "Each year at these seminars, we get to hear how UCC retirees are being touched by their visits, and how Annuitant Visitors are transformed by these not-forgotten servants who have faithfully served the church. It's a wonderful way to serve."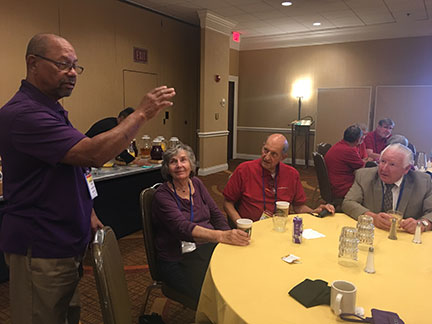 The Annuitant Visitor Seminar closed with worship on Sunday, September 10. Rev. Christopher Grundy, Assistant Professor of Preaching and Worship at Eden Theological Seminary and member of Peace United Church of Christ in Webster Groves, Missouri, preached on "Shepherding God's Light," the 2017 Christmas Fund theme. He encouraged those gathered to approach their ministry of visitation not as an opportunity to take God's light to others, but as a pilgrimage to see and raise up God's light that is already shining in the world.

In the spirit of generosity, an offering of $2,135 was received that will be split three ways among the Christmas Fund; Missouri Mid-South Conference youth ministry initiatives (a portion of the offering always stays in the Conference where the event is held); and UCC Disaster Ministries. Hurricane Irma was making its way across Florida as worship occurred.

Learn more about the Annuitant Visitor Program here: http://bit.ly/PB_AVP_INFO. Also, visit PBUCC's Facebook and Twitter pages to watch video testimonials from Annuitant Visitors, plus photos from this event.