by Rev. Jennifer Mills-Knutsen
Click here to read part one

Forced to choose, I prioritized opportunities that aligned with the Grand Dream and let go of those that did not: A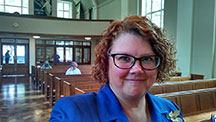 conversation with the BBC about God in the U.S. election? Yes, ahead of all else. Organizing the Council to make a new policy, even on a pressing matter? No. Providing the best sermon I could manage? Yes. Fellowship lunch after church with long-time members? Only if energy permitted. Making time for faith-sharing conversation with the cancer center staff who were treating me? Yes. Weighing in about building use or paint colors? No. Meeting with Embassy staff to connect with Americans seeking a church in London? Yes. Having one-on-one pastoral visits to build relationships with church leaders? Not a top priority until energy returned.

With every choice, I pictured the yellow paper with my CREDO Plan* scrawled out by hand, and I tried to prioritize those things that God had shown me in the Grand Dream, the things that formed my unique gifts to the world. God and my new church affirmed this call, supporting those choices about spending my limited energy.

It was the hardest year I have ever faced. Any move to a new country and new congregation is a whirlwind of unfamiliar names and strange traditions, along with new cultural norms, new money, new words, and new responsibilities. Our whole family faced all the difficulties of transition while riding out cancer treatment and its worries. There were lonely and frightening moments when my health became quite precarious.

I cannot imagine how I would have withstood these trials without God's presence and strength, and the faithful companionship of my church and clergy friends who have been the Body of Christ to me. I never needed God like that before. Even with the fear and doubt, I felt this undeniable reassurance that God would somehow redeem this awful thing. Even if cancer took away my life, it could not take away God's call. I knew that not just in my head, but in my heart, guts, and bones. Because of CREDO, I not only knew it, I knew what to do with it.

A New Testimony

My third goal and priority from CREDO was to clarify my own testimony, and to be able to share how Christ had changed my life and made a difference in me. I knew this cancer journey would give me a new testimony to share. My blog, which I intended as a tool to process my feelings and share updates with family and friends, attracted a much wider audience who said they found God's presence in reading my testimony.

Six months have passed since I finished my radiotherapy. I still have a few targeted injections left, plus another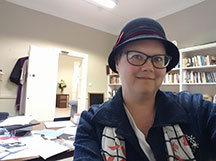 major surgery, but there is every reason to believe that cancer is nearly behind me. My energy is almost fully restored, and I am able to say "yes" to many more things now.

The church and I have formed a deep bond already, and we see a bright future together in ministry. I can see how that Grand Dream can take shape in this place, to the glory of God and the good of the church.

This testimony is my expression of gratitude for the gift of CREDO. I'm sure none of us could have anticipated the role it played in my life in the last 18 months. Thank you for making this program possible, and for the impact it made in my life and ministry.

About PBUCC CREDO

The PBUCC CREDO experience is anchored in a week-long seminar, where participants examine significant areas of their lives and discern prayerfully the future direction of their vocation as they respond to God's call. Learn more: http://bit.ly/PB_CREDO, and support this ministry by visiting http://bit.ly/UCBMA_GIVE.

*The "Plan" is a PBUCC CREDO Covenant, a culminating personal plan based the CREDO experience that inspires intentional practice and continued growth.