by Rev. Jennifer Mills-Knutsen

In this two-part testimonial posting today and tomorrow, the Rev. Jennifer Mills-Knutsen, Senior Minister of American International Church in London, shares her personal ministry and health journey, highlighting the significant role CREDO played during her season of transition. The Pension Boards-United Church of Christ CREDO program is a holistic wellness benefit program administered by the United Church Board for Ministerial Assistance (UCBMA) for eligible members of the Annuity and Medical Plans.

In April 2016, I was honored to receive the gift of CREDO from the Pension Boards. It had such a profound impact that I want to share my story. I can't point to specific lectures, exercises, or people who made the most impact, because the entire experience was a unified whole, combining professional support from faculty, meaningful conversations with colleagues, time alone in the woods, worship and prayer. I am grateful for them all.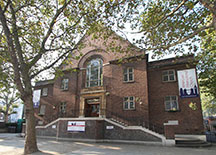 My CREDO seminar week fell in a season of transition. I was preparing to leave small town pastoral ministry at St. Luke's UCC in Jeffersonville, Indiana, to become the Senior Minister at the American International Church in London. Even though I was excited about the new call, God still seemed a bit out of touch. I came to CREDO hoping to find Her again. I was eager to pray, discern, grieve, write, and reconnect with my spiritual self. I did.

I received a "Grand Dream" that week which shaped the personal, professional, and spiritual work of my new call. Thick with both fear and joy, this CREDO-inspired Grand Dream has oriented me ever since, and guided me by three core goals and priorities.

Embodied Ministry

The first goal and priority that emerged from CREDO was to take better care of my body. I realized it is the only vessel God gave me to do the ministry work I love. On a Saturday night six weeks after CREDO, I found a lump in my breast. The next morning, I celebrated my farewell Sunday with St. Luke's, full of tears and gratitude. On Monday, I called the family doctor. Without the combination of CREDO and the pressing move to London, I don't know that I would have taken such quick action.

On Thursday, I removed the last box from my church office, handed in the keys, then went for a
mammogram. On Friday, as our belongings were loaded onto the truck for London, I received the call that I had breast cancer. Over the next two weeks, there were more tests and a minor surgery. I would need chemotherapy, surgery, and radiotherapy. The cancer was aggressive but detected early, so I had a strong chance to make a full recovery. I believe CREDO was key in that early diagnosis, because physical well-being became a higher priority in my ministry practices.

Get Vertical

The diagnosis was terrifying, especially coupled with an imminent international move and uncertainty about whether the new church would accept me now that I was ill. Yet, thanks to CREDO, I entered those fearful external circumstances with a strong internal and spiritual foundation. I hoped the CREDO week would help me find intimacy with God again, and it did. My second goal and priority was to "get vertical," communing with God. When the diagnosis came, my faith felt on firm footing, my prayer life rich and full, and my sense of call secure.

The American International Church in London received my news with graciousness, kindness, and support. They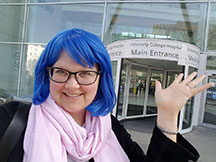 did not withdraw, but offered flexibility to serve as their new pastor even while undergoing treatment. My husband, 9-year-old son, and I landed in London on July 9. I started work on July 11, had another minor surgery on July 18, and started chemotherapy August 15. When that was completed in December, I had major surgery in January, followed by five weeks of radiotherapy that ended just in time for Easter.

The many treatments cut my energy to the bare minimum. Every day, every week, I had to choose just one or two things I could accomplish among the many competing ministry needs and opportunities. CREDO helped me set those priorities.

The Grand Dream I received shifted my ministerial identity from "pastor" to "evangelist." That's why my physical health and ability mattered. That's why my personal spiritual life needed to be vital. Living into that Grand Dream required me to change my focus from tending to the care of a church's flock to serving as a witness of Christ's love for those who seek him and those who do not.

Click here to continue to part two of Rev. Mills-Knutsen's story.