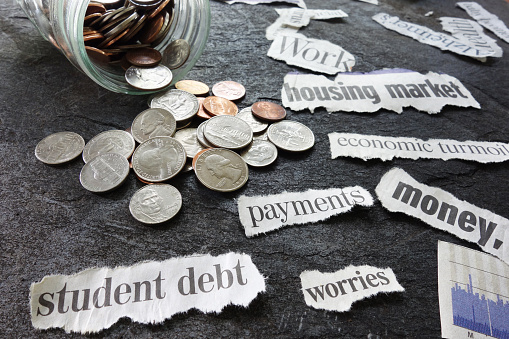 There are ways to tailor your repayment of student loans according to your personal needs. You have a range of repayment plans to choose from, and you can change to a new plan at any time.
Different repayment periods are offered, and some plans feature a gradually increasing payment, while others offer a payment that changes with your income level. Private student loans offer fewer repayment plans than federal loans do. Choose a plan that will help you balance all your financial priorities, including shorter-term goals such as buying a home and longer-term goals like retirement.
A Consolidation Loan Can Simplify Your Finances
A consolidation loan lets you combine multiple federal student loans into one. In addition to streamlining repayment, consolidating might allow you to lower the overall interest rate you're paying and reduce your total monthly layout for student debt. As a heads up, if you lengthen your repayment period, you might pay more interest by the time you finish paying off the consolidation loan.
Tax Deduction for Student Loan Interest
On your federal tax returns, you may qualify to deduct up to $2,500 of student loan interest each year. (Higher-income taxpayers are subject to a phaseout of this deduction once their modified adjusted gross income reaches a specific threshold based on filing status.) This is an above-the-line deduction, meaning you can claim it regardless of whether you itemize.
Q: Are charitable deductions affected by the new tax law?
A: The federal Tax Cuts and Jobs Act increased the deduction limit for cash donations to qualified charities to 60% of your adjusted gross income (AGI). Under prior law, the limit was 50% of AGI.
As in the past, if your cash donations exceed the deductible limit, you can carry forward any unused deductible amount for up to five years. Also, to deduct charitable donations, you must still itemize them on Schedule A.
Your ability to itemize deductions could be affected by the near-doubling of standard deduction amounts under the Tax Cuts and Jobs Act. For 2018, the standard deduction is $24,000 for joint filers, $18,000 for head-of-household filers and $12,000 for single filers. These amounts will be adjusted for inflation starting in 2019.
Webinar: Refinancing Student Loans
Join EY for the November webinar, "Refinancing Student Loans." You'll get help figuring out whether refinancing makes sense in your situation. We'll also talk about how to choose a lender and how to navigate through various repayment options, including some that allow you to tailor payments to fit your budget. Register below for either the November 7 or November 15 sessions today!
You can also register for the webinars through the EY Financial Planning Center® or by contacting an EY financial planner at 1.877.927.1047. Following the webinar, the EY Financial Planner Line® (EYFPL) will be available to answer questions about your financial planning needs.
This article is used with permission of Ernst & Young LLP.